Misson Statement
"CITIUS, ALTIUS, FORTIUS"

Our mission is to create world-class Grassroots Karate Camps to enrich young karate-ka lives (12 yrs and up, under 12 yrs with parent or sensei accompany) and grassroots coaches (ages 18 years and up). The GK Program provides to the athletes a high-level Karate training under some of the finest instructors in the world; challenging them to achieve their best, both physically and psychologically, while developing positive self-esteem to pursue their goals in life.
We make a difference in the participants' lives by sharing an Olympic attitude and providing the proper mental and psychological tools for success.
We foster the possibility for each athlete/karateka to realize and reach their dreams in life.
Our goal is to implement Olympic strength and Karate condition/technical drills to their area of the Grassroots Development Program, so when the athletes and coaches back in their dojos, they can take Karate-do to a new level of development, and nurture the historical and educational elements of the traditional art.
We provide the participants with new and up-to-date skills and conditioning training methods. The classes are imparted by world-class teachers/sensei - that will help the participants to achieve the highest level in the art and sport of Karate-do.  
We work to support and inspire, and at the same time, give and share the tools to accomplish the dreams in any field the participants wish to pursue.
Images of Our Program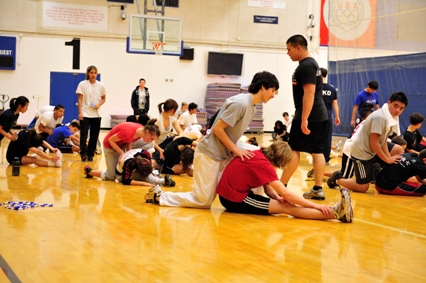 "The Ultimate aim of the art of Karate lies not in victory or defeat,
but in the perfection of the character of its participants,"
–Gichin Funakoshi